ABOUT RIVERHOUSE WATERFRONT RESTAURANT
A unique blend of casual and elegant. Riverhouse Waterfront Restaurant offers a fresh approach to incredible cuisine and casual elegance.
Our waterfront dining room brings the outdoors in with an interior that opens completely to the waterfront. Outside, dockside seating offers glimpses of docile Manatees, playful Dolphins, and elegant yachts.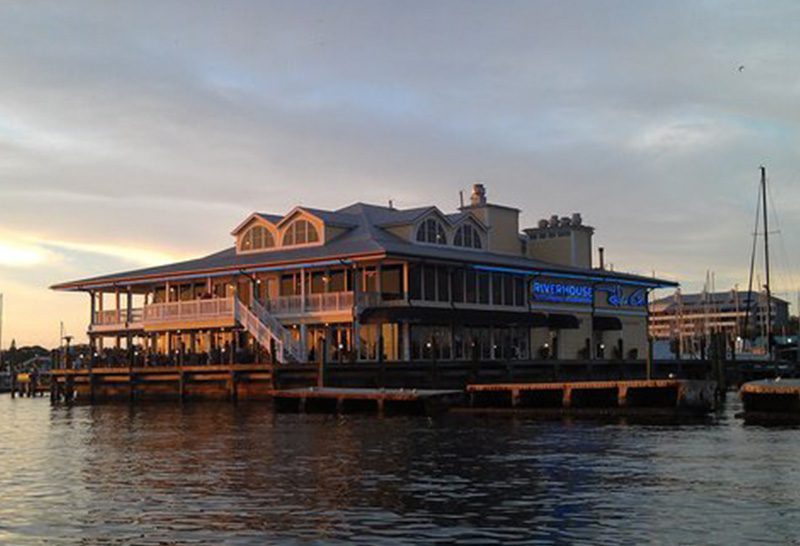 Riverhouse Waterfront Restaurant offers only the freshest of seafood, the highest quality certified Angus steaks and burgers, and new twists on old favorites such as our renowned Lobster Pot Pie, Cajun Crawfish Cheeseburger, and Fish Tacos, to name just a few!
Our salads are made with only the freshest of produce and our soups are all unique house-made creations.
CUSTOMER REVIEWS
Below are a few sample reviews from TripAdvisor and Google.
A TripAdvisor reviewer wrote:

We reserved a table right on the deck for a party of 5 and had a great spot (make sure to reserve in advance as patio seating is hard to come by). Carrie (our waitress) greeted us and right off the bat, we noticed how personable and engaging she was. She was very thoughtful of us while we were ordering – a couple of us had some special requests that she easily accommodated, even though it probably meant she had to spend more time with us during a very busy Saturday-as she listened to our requests, she even made her own suggestions which was very helpful. We all ordered something different and each one loved their meal – Caesar salad, grouper sandwich, grouper tacos, chicken tacos, and veggie bowl. Mine was the chicken tacos and I can't wait to go back and have them. I'm a little sensitive to heat, so I was nervous they would be too hot – they weren't! They were perfect. When I got my food, my fries weren't hot and I mentioned it to Carrie. Fresh fries arrived at our table in probably 2-3 minutes (and they were great)! We were celebrating that day and Carrie not only made us feel special, but tried to anticipate any need we may have. Having been a waitress myself, I really appreciated her bubbly personality, how she connected with us and cared for us. We all left saying that we loved the food and felt like we had the royal treatment. It was a perfect lunch! This was our third time and we always bring our out of town guests – everyone always enjoys Riverhouse!
A Google reviewer wrote:

The food was so good! The view, the sunset, the staff everything! No complaints.