HAPPY PADDLER BEGINNINGS & HISTORY
The story of Happy Paddler Kayak Tours is all about chasing happiness! They are Shane and Holly and forever grateful to have been born and raised in beautiful Florida. They've spent their days jumping off docks into Sarasota Bay, watching coquinas bury themselves into lumps of beach sand, and (of course!) paddling the gorgeous waters of Longboat Key and Anna Maria Island.
Adventures on the water have always been part of their daily lives growing up on the barrier islands of Sarasota Bay. When they migrated to the Florida Keys in 2006, they spent most of their days SCUBA diving, kayaking, and snorkeling.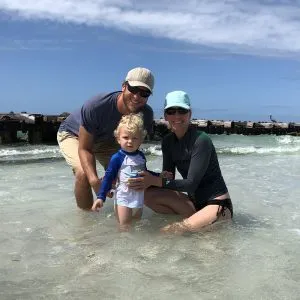 Both of us had dream jobs while living in the Keys… Holly worked as a marine fisheries biologist and Shane was a sea turtle veterinary assistant at the Turtle Hospital. They took every opportunity to mix in some kayak time throughout each work day. In fact, our "professional" life behind the paddle really took off in the Florida Keys. They paddled countless miles around the patch reefs, mangrove islands, and seagrass flats… life was good!
LOVE OUR PARADISE
As much fun as they were having, they couldn't ignore the environmental issues that plagued their beloved waters. Threats to marine ecosystems such as overfishing, climate change, red tides, and pollution are tough to ignore when you live so close to the impact zone. Eager to learn about ways to help their salty paradise, they sought out educational and volunteer opportunities throughout Florida. Moving back to their home waters on the Gulf Coast was at the top of their list. They pursued careers in marine science and sought any excuse to be adventuring on the water in our native waters and across the globe.
Working in places like Iceland, the Baltic Sea, and the U.S. western seaboard taught us a lot about the state of our seas. Visiting these places gave inspiration for helping address some of the environmental issues in our home waters. Moreover, as we explored marine ecosystems around the world, we made a simple discovery. Spending time in nature always left us feeling… happy! Eureka! It was on a circumnavigational trip around Iceland that we decided the best way to do and protect what we love was to merge our passions for marine science and adventure… and to share the happiness with others!
KAYAKING IS FANTASTIC AT HAPPY PADDLER
We launched Happy Paddler Kayak Tours in 2013 to share our love for Florida while maximizing the fun we can have in the days given to us! Since then, we have grown into a hub for environmental stewardship and citizen science projects. We're proud to contribute anything we can to make our waters better for all, here and around the world.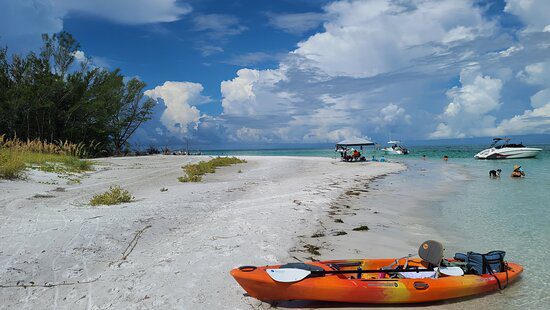 Working with such an amazing team that so fully appreciates the joy of life on the water makes this the happiest, most fulfilling job ever. Sharing Florida's treasures with others is our true passion in life, and paddling is our favorite way to do it!
CUSTOMER REVIEWS
Below are a few sample reviews from Google and Tripadvisor.
A Tripadvisor Reviewer wrote:

I went on a three-hour tour in early January 2023 and loved it! I am 65 and have never paddled before. They are very well-organized, and Alan is a wonderful tour guide. They take every precaution for your safety and comfort. The tour of Sarasota Bay is amazing. If you have never gone and have ever wanted to try it, go for it.
A Google Reviewer Wrote:

My husband, myself, and our three kids (ages 15, 12, and 5) absolutely loved kayaking Longboat Key!! Happy Paddler prepared us beforehand with a large map to explain our route and landmarks. We really enjoyed the swimming birds, and the dolphins. Snorkeling at the sandbar was super cool, and we found lots of crabs and sea urchin. Beer can island is a MUST SEE. One of the greatest beaches I've had the pleasure of being on. Save some energy for your paddler back if you will be fighting the tide as we did. Great adventure, thanks for the hospitality!