KEY ROYALE CLUB BEGINNINGS & HISTORY
On April 2, 1965, the Key Royale Club was founded with 96 founding members. The clubhouse opened on December 31, 1966, while the course opened on September 24, 1966.
The golf course was built to promote a new 125-acre housing development on School Key. When developer Peder Mickelsen bought School Key, a 150-acre island off the northwestern tip of Anna Maria Island, it was covered in mangrove swamps and forests.
Mickelsen, who lived in Minnesota but spent the winters on Anna Maria Island, cleared the jungles and arranged home sites so that every lot had access to open water. The Army Corps of Engineers dug the canals, kicking off the Key Royale community.
William Lee, a house builder from Minnesota, erected a home on Key Royale Drive and became the development's major builder. The major real estate selling agent was Howard Adams, a local real estate realtor. Mickelsen and these individuals believed that developing a golf course would help promote the project because they were friends and neighbors.
These three men, together with Arthur Reppenhagen, Sr., committed $25,000, becoming the club's first financial backers. Howard Adams was the inaugural president of the new club in 1965. And Arthur Reppenhagen, Sr. drafted the group's initial statutes.
GULF COURSES ON AMI: KEY ROYALE CLUB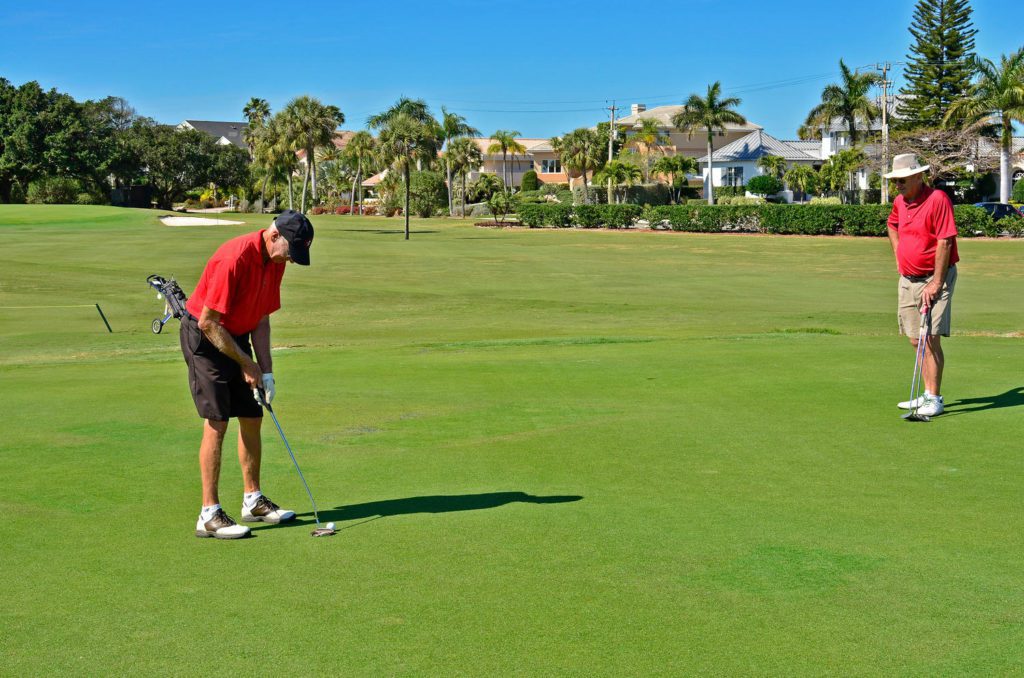 Anna Maria Island golf courses are few and far between, but the ones that do exist are excellent.
Key Royale, is located at Holmes Beach on the north end of Anna Maria Island. It's an excellent area to practice your short game. This members-only club has a close-knit golfing community, a great restaurant, and, of course, a lovely, well-designed course.
Key Royale Club offers a 5,000-square-foot Club House with a complete kitchen, dining area, huge dance floor, full bar, and an outside terrace.
Their full-service restaurant and bar is a popular spots for eating, drinking, and socializing. It serves wonderful cuisine, fantastic handcrafted desserts, and a large selection of drinks, cocktails, wine, and beer to social and golf members.
CUSTOMER REVIEWS
Below are a few sample reviews from Google.
A google reviewer wrote:

A good, excellent, executive course in a private club. Accepting new members with a recommendation from current members.