SMOQEHOUSE BEGINNINGS & HISTORY
We are a husband and wife partnership with the (occasional) assistance of our three children. In 2016, a friend of ours (Adam) gave us an FB post about a vacant place in a mall, and we opened our first shop in Faribault, MN. We simply showed up every day, cleaning, painting, and producing until SMOQEHOUSE blossomed. We began a Go Fund Me campaign in January 2016 to gather the last monies we needed to open, and we were there within 24 hours. The outpouring of love was overwhelming and humbling.
Andy is the constructor; he designed and hand-painted the animal heads, as well as built all of the benches, tables, and lightboxes. Heidi designed our logo, as well as our signage, menus, packaging, website, and clothes. We designed the brand, the look, and the menu together.
It truly has been a labor of love. We were requested to create another just up the street in a tiny college town, Northfield, MN, about a year after we opened SMOQEHOUSE-FBO. In March of 2017, we formally inaugurated that site. We took off sprinting from there. Only 5 months later, our Anna Maria Island, FL- facility launched.
We've had our eyes set on AMI for years, so when an established restaurant site became available and was placed in front of us, we knew we had to take advantage of it!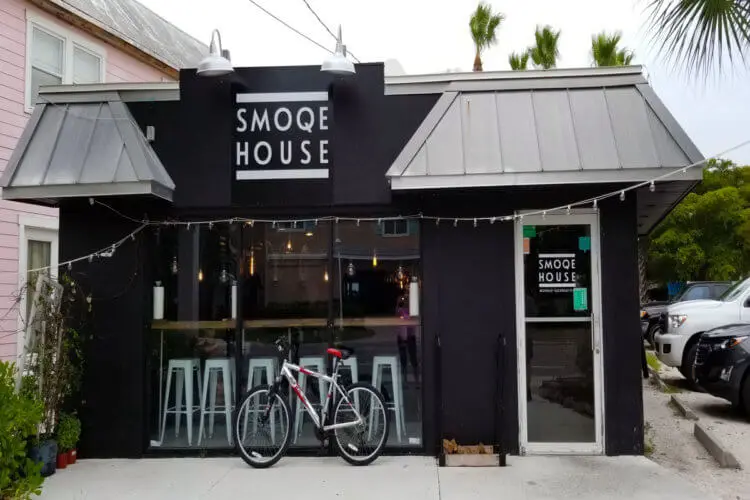 After a few years of navigating several sites, storms, red tide, and living apart, we relocated our family to Florida's Gulf Coast, where we will open our Sarasota facility in February 2020. To say our journey has been difficult would be an understatement, but we honestly feel each of our sites has a purpose. We have been blessed with an incredible staff and great family support. Everyone has made a contribution in some manner.
BEST SUB ON AMI: SMOQEHOUSE
SMOQEHOUSE is a quick casual restaurant that serves handcrafted sandwiches, salads, soups, fries, and anything else our creatives have up their sleeves on any given day. It is a notion that we developed after working in the restaurant sector for many years. No, we're not your typical barbecue joint!
Comfort meals with a twist, created from the best local ingredients, are on the menu. Try the brisket double burger, the pulled pork sandwich, or the Korean beef. They also have vegetarian choices and gluten-free options. Everyone will discover a wonderful lunch on their kids' menu! You can also order a beer or wine to go with your meal. Sandwiches vary from $7 to $10, making this an economical alternative for a tasty lunch or dinner.
Smoqehouse is located in Bradenton Beach at 1701 Gulf Drive. Monday through Saturday, 11 a.m. to 8 p.m.
CUSTOMER REVIEWS
Below are a few sample reviews from Tripadvisor and Yelp.
A TripAdvisor reviewer wrote:

I read the bad reviews , love the answers Andy gave , and thought we need to try this place. Food was on point , won't hesitate to try this joint again! The music was rockin as well! Don't miss out when in Anna Maria!
A Yelp reviewer wrote:

We stopped here for dinner after someone recommended it while we were visiting Anna Maria Island. Fantastic BBQ and excellent customer service! I had the Korean beef sandwich with fried brussel sprouts and my friend had the brisket burger and fries. We liked it so much that we went back the next afternoon and ordered the same exact thing! Definitely worthy of 5 stars.UsefulFunnyCool