JERSEY MIKE'S SUBS BEGINNINGS & HISTORY
Mike's Subs in Point Pleasant, New Jersey is celebrating its 60th anniversary this year. Mike was unique in that the product he was offering was a relatively new item in American society – the submarine sandwich. In 1956, proprietors or mom-and-pop businesses would open their stores in basic storefront locations.
Point Pleasant, New Jersey is centrally located in the state on the legendary Jersey Shore. Mike capitalized on the influx of vacationers, visitors, and local residents by offering them his unique new product – submarine sandwiches. People would line up throughout the summer to buy the sub sandwiches that Mike was selling.
In 1971, Peter Cancro was a high school student in Point Pleasant, New Jersey. As a senior in high school, he overheard the owner of Mike's Subs discussing selling the business. Peter approached his football coach and asked him to help him buy the sub shop.
At the tender age of 17 – before he was legally able to slice a sub – he became the owner and proprietor of Mike's Subs.
After buying Mike's Subs, Peter expanded upon the phenomenon. Also, he taught the crew to interact and talk with the customer, and to share a passion for getting to know the customer. They would have customers lined up out the door in the summertime waiting to get the authentic sub sandwiches. This got Peter thinking, and he started researching the possibilities of franchising Mike's concept. In 1987, Peter began franchising.
Moreover, today Peter Cancro is the CEO of Jersey Mike's Franchise Systems Inc. He oversees more than 2,000 locations open and under development. Despite the title, Peter still jumps behind the counter to test his skills and demonstrate his passion for the product and the customer.
BEST SUB ON NAVARRE: JERSEY MIKE'S SUBS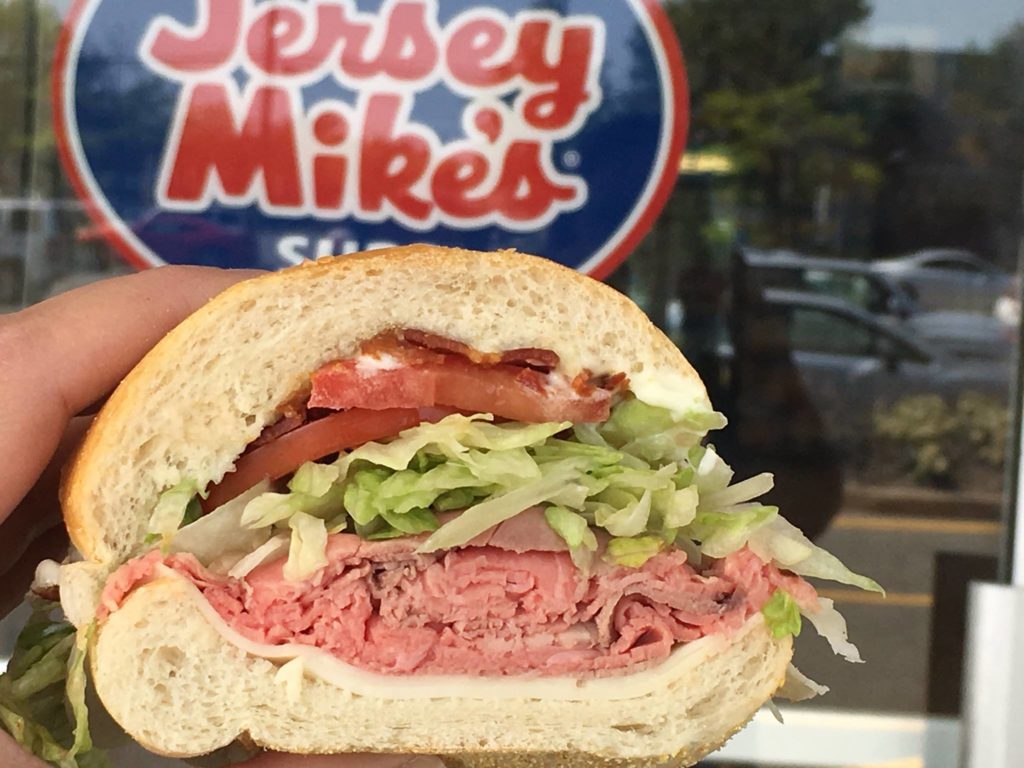 So Jersey Mike's, a fast-casual sub sandwich company with over 2,100 sites operational or under development around the country, has a long history of community participation and support.
Today's Mike's Submarine sandwiches have lettuce, onions, tomatoes, oil, vinegar, and seasonings. MSA Grade top round beef is cut and cooked on-site. All of the meats and cheeses are high-quality premium brands. Every day, fresh bread is made on the premises.
CUSTOMER REVIEWS
Below are a few sample reviews from Tripadvisor and Yelp.
A TripAdvisor reviewer wrote:
A really well run Jersey Mike's!
We've come to this Jersey Mike's many times over the last several years and I have to say it is one of the BEST run Jersey Mike's (and we've been to dozens across the US) we've ever been to. The food is always served very fresh, the staff and management is wonderful and on top of things. It's always very clean. We went here again today, Christmas Eve, and the crew/manager were just delightful (as always) – making us feel welcome and making sure our food was perfect! All Jersey Mike's should have a committed crew and service like this one! Ya'll rock! Keep it up. Hah, we went twice today – the salads were amazing, the sandwiches perfect!
A Yelp reviewer wrote:
Great subs! I don't ever have a large wait time so not sure what the other reviews are talking about. And during a short staffed, post pandemic era, have some patients. All the staff have always been super nice and friendly, so again don't know why the shit reviews there either, it's a sub shop. Only downside is they are a little pricey but will still pay the price over going any where else.