GINNY'S & JANE E'S CAFE AND GIFT STORE BEGINNINGS & HISTORY
Ginny's and Jane E's has a unique and funky collection of local art and antiquities all sourced locally from pickers and artists. Postcards, handmade bracelets and necklaces, custom t-shirts, and handmade art made from shells and refuse found on the beach. Unique chairs, tables, lamps, odds, and sods, that you cannot find elsewhere.
Ginny had an antique shop, and Jane loved cooking and baking. So the sisters searched for a location to give them what they needed. They came upon the Old IGA Store in Anna Maria, an iconic location with a tremendous connection to the community.
Ernie Cagnina was the mayor of Anna Maria from 1976 to 1988, for 6 consecutive terms. He entered politics when his beloved City Pier, one that he had played on as a kid was falling apart. He corrected the policing issues and raised money to repair and add a restaurant to the City pier. Ernie passed away on August 23rd, 1994, but left all of us a legacy of how one can impact those in his community in such a positive manner.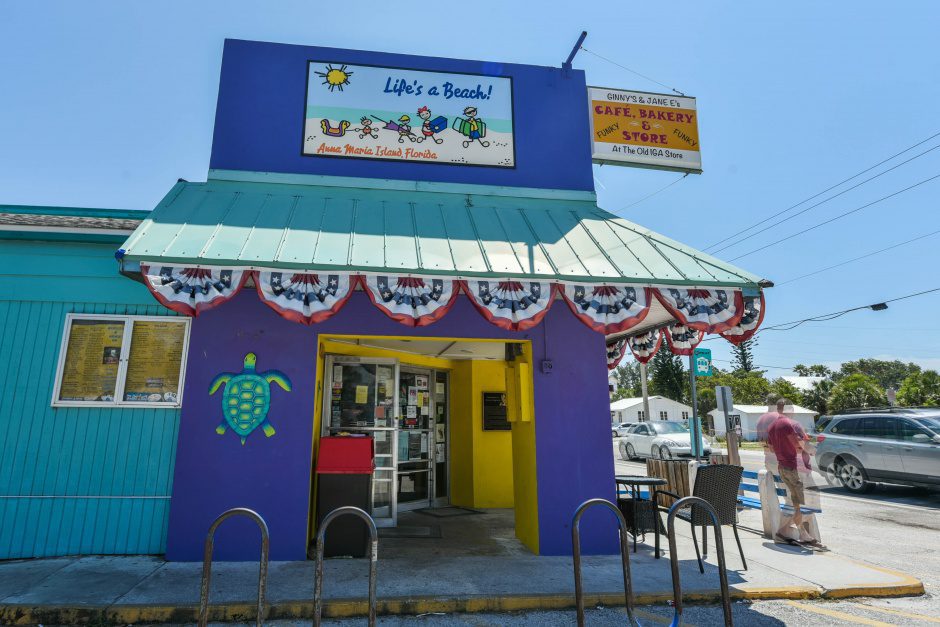 Moreover, in January 2009, Ginny and Jane retired and moved to Bradenton, Jane moved back north and Ginny lives in Bradenton. The concept of what they started thrives on, and will hopefully remain there for the next 50 years.
BEST SUB ON AMI: GINNY'S & JANE E'S CAFE AND GIFT STORE
The café opens early in the morning, making it an ideal place to start your day with a wide variety of delicious made-from-scratch menu items such as bagels with salmon lox, eggs, and cheddar sandwiches, meat or veggie breakfast wraps, various omelets, French toast, pancakes, 1 to 3 egg breakfasts, fresh juice, and mimosas.
Lunch menu items include handmade soups and salads, Cuban sandwiches, cheesesteak, chicken salad or club sandwiches, beef or chicken Reubens, hamburgers, BLTs, Caesar or spinach wraps, and also a choice of smoothies.
Also, the bakery is open throughout the day, serving the famed daily made cinnamon buns as well as a variety of other fresh goods such as pies, scones, quiche, cakes, muffins, and more.
The café has adapted to its clients' dietary demands and now provides a variety of vegan and gluten-free baking options.
The handcrafted orange ice cream prepared from freshly squeezed Florida orange juice is a zesty delicious delicacy that you won't get anywhere else!
CUSTOMER REVIEWS
Below are a few sample reviews from Tripadvisor and Yelp.
A TripAdvisor reviewer wrote:

Stopped in for lunch and were pleasantly surprised by the friendly staff. You order at the counter and then find a seat. They give you a number and staff brings your order to your table. The staff working the dining area was a ray of sunshine – she was an absolute delight – checking in with us and making sure the food was as we ordered it. Our family had the chicken salad on a croissant, Cuban, BLT and Philly cheese steak. All were fresh and delicious. Sandwiches are served with your choice of fries, house made chips or a side salad. Fries and chips are served with house made ranch – fabulous. This one of a kind breakfast and lunch spot is located in an old IGA and contains an eclectic array of art and collectibles-quirky and fun. There is a small gift shop in the front too. This is a must for anyone staying on the island.
A Yelp reviewer wrote:
This place is amazing. Food was great, decently priced for the location. Every staff member was incredibly nice and attentive. Cool little shop to browse while you wait.