THE PORCH RESTAURANT BEGINNINGS & HISTORY
One of Anna Maria Island's newest restaurants is in a vintage location you may recall as the home of Sign of the Mermaid for over 30 years. The Porch now enjoys this space at 9707 Gulf Drive in Anna Maria City.
The building located at 9707 Gulf Drive, Anna Maria was Built in 1913 and sold to Professor Nichols as a winter getaway and also as a rental.
A few years later, in the year 1920, the Anna Maria Beach Company built and rented out a total of 60 cottages.
Over 109 years, many changes came along for this building, and many stories and fond memories followed. Most individuals remember this location as the beloved Sign of the Mermaid, as it was for a respectable 30 years – Others might remember a time when this building was a local daycare too.
The Porch is a newly refurbished Anna Maria Island dining experience. This restaurant, once known as the Sign of the Mermaid, was renovated and renamed. They provide fantastic food to both residents and guests from all over.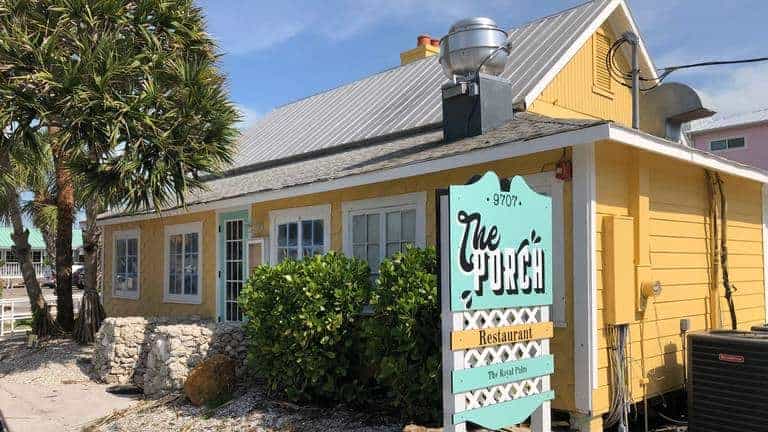 Also, customers of The Porch are already talking about The Porch's trademark meals, seasonal entrées, specialty spritzers, top-quality steak, fresh seafood, and extensive beer and wine choices.
BEST STEAKHOUSES ON AMI: THE PORCH RESTAURANT
The Porch has worked hard to create a delightful meal while also preserving the structure too much of its previous brilliance.
Moreover, The Porch serves multiple kinds of substantial high-grade steaks grilled to perfection, lamb chops, portobello mushroom lasagna, and daily specials.
CUSTOMER REVIEWS
Below are a few sample reviews from Tripadvisor and Yelp.
A TripAdvisor reviewer wrote:

If I could give more than five I would! Our server Amy; very professional and attentive, Amy gave us recommendations and tips on wine. ( excellent server). The food was to perfection, We will return
A Yelp reviewer wrote:

Courtesy Valet when parking is so tough in that area! Great idea. Everything was amazing, from the waitstaff to the food to the cleanliness of the restaurant.UsefulFunnyCool