SANDBAR SEAFOOD AND SPIRITS BEGINNINGS & HISTORY
Ed Chiles purchased the Sandbar in July 1979 with the intention of honoring the Sandbar's history while creating a destination for locals and visitors offering a once-in-a-lifetime dining experience featuring great food, amazing service, and a view that will forever be etched in a guest's memory. The look, landscape, and menus of The Sandbar have evolved over time, but the team has never lost sight of the overarching goal of providing our guests with an unforgettable beachfront dining experience.
Ed Chiles purchased the Sandbar in July 1979 with the intention of embracing the future while honoring the history of this historic site and all that it has meant to the history of Anna Maria Island.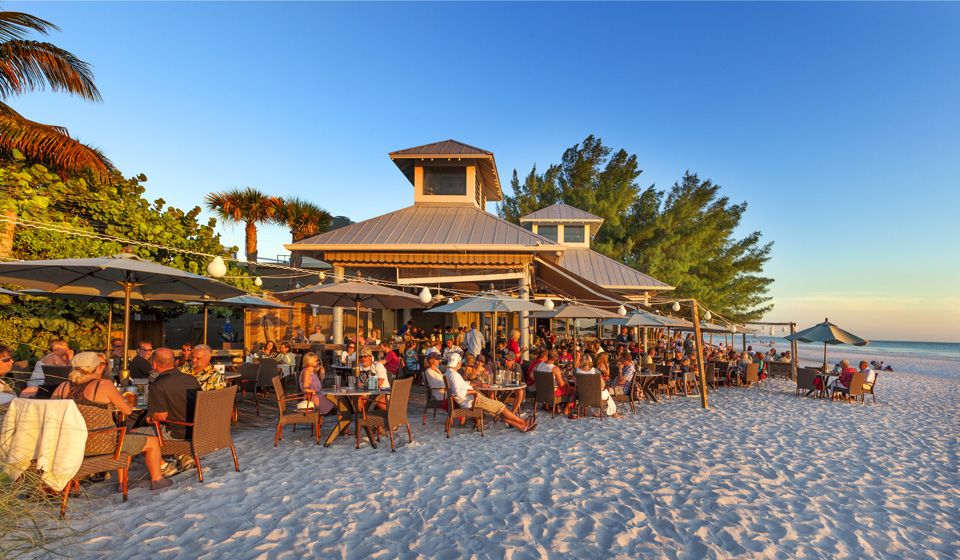 Beautiful views of the Gulf Coast are one of the best reasons to dine on Anna Maria Island. Sandbar Restaurants, for example, are ideal for an early dinner while watching the sunset in all its glory. The best part is that you can sample some incredible, locally sourced dishes.
BEST STEAKHOUSES ON AMI: SANDBAR SEAFOOD AND SPIRITS
The Sandbar specializes in fresh seafood, so there aren't many fried items and steaks on the menu. Peel-and-eat shrimp, oysters on the half shell, octopus salad, and fresh fish tacos are a few examples. Other popular dishes include the fish sandwich, stuffed shrimp, and shrimp with gnocchi.
CUSTOMER REVIEWS
Below are a few sample reviews from Tripadvisor and Yelp.
A TripAdvisor reviewer wrote:

The food here was amazing. My wife said the fish dip was the best she has had in a long time. The staff are very friendly and very helpful. Parking was the only thing you need to look out for. Parking is not labeled well. They have free valet parking at the restaurant right where you go in. We drove around a bit looking for a place to park. They need a big sign out at the road identifying this information. That being said, I would have parked up the street to eat here. The food was that good. All fresh and local grown produce to fish locally caught.
A Yelp reviewer wrote:

Fabulous food, outstanding ocean views & excellent service are part of why we love dining at the Sandbar Restaurant. The other reason is the staff. They are professional, friendly and very knowledgeable. Shea (one of the managers), remembers us, welcomes us back and takes the time to check on our food and service. We live out of state, so we find Shea's kind of caring service to be outstanding and it makes us return as often as possible. Mary Beth, Beth (Elizabeth), Cade and Ashley are staff members who have been attentive, helpful and excellent at their jobs.

We highly recommend dining at the Sandbar!