BEACH HOUSE BAR AND GRILLE BEGINNINGS
They've wanted to open a restaurant on the beach for more than 20 years, serving simple, delicious food. It all started on our first romantic trip to Cuba, where my wife and I ate lunch at a beach bar overlooking the water every day.
Since then, they've been fantasizing about opening their own restaurant named Beach House Bar and Grille, bringing back memories from our trip.
The new restaurant on Navarre Beach opened to the public today. Located next door to the new hotel, they will only serve lunch and dinner for the first week or so. Lunch will be served from 12 p.m. to 2 p.m. Breakfast will be postponed for one or two weeks.

At Beach House Bar and Grille, the breakfast will cost between $9 and $18, lunch will cost between $10 and $14, and dinner will cost between $18 and $31. A menu for children under the age of 12 will cost between $3 and $10.
Handcrafted cocktails cost $9. Beer costs between $4 and $6, and wine costs between $6 and $90. At this time, there is no happy hour.
BEST SEAFOOD ON NAVARRE: BEACH HOUSE BAR AND GRILLE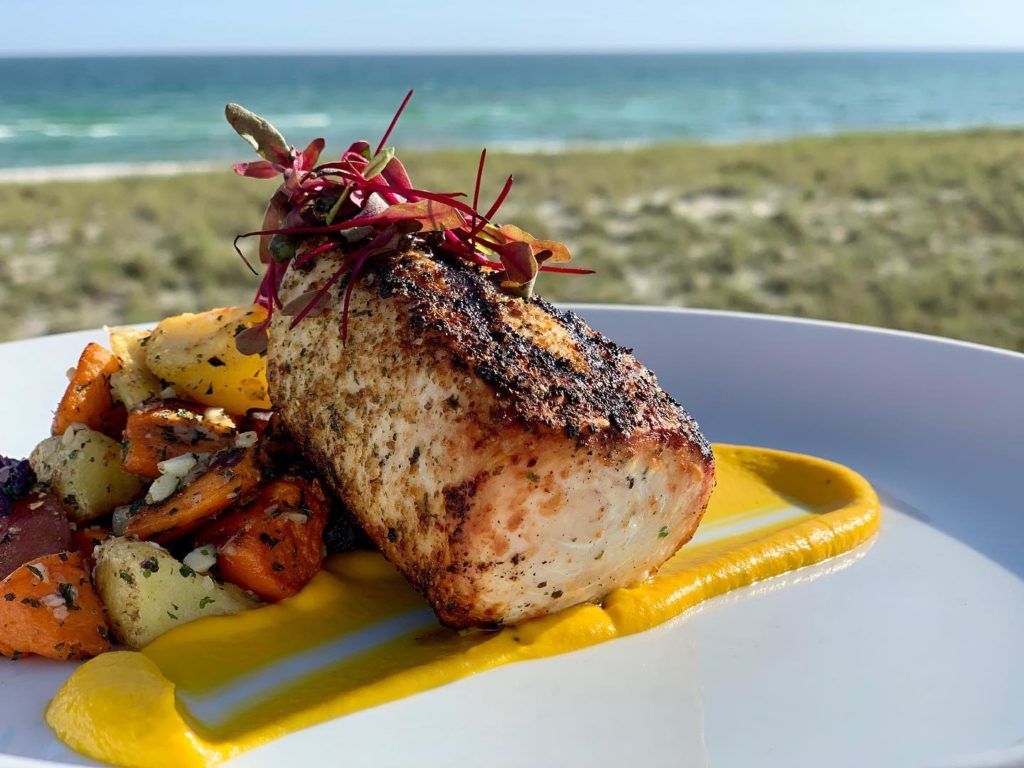 Breakfast consists of eggs, pancakes, and french toast. For lunch, I had a burger, chicken, a fish sandwich, and a BLT. Dinner will consist of fish, steak, and pasta.
There were no complaints on social media from those who ate during the soft opening. Jerry Foster, a well-known local, had a steak and raved about it!
CUSTOMER REVIEWS
Below are a few sample reviews from Google and Yelp.
A Google reviewer wrote:

Mostly casual atmosphere, but upscale food and service. There was a guy at the bar with no shirt, but that was the exception. Hotel river pool is right outside. Nice view of gulf and bay.
Got the chefs special. 4 course meal. Worth every stinking penny, and I haven't even eaten dessert yet. (Edit, bread pudding, dear goodness so worth it)
Custom drinks were delicious. A requested gin martini with extra olives came with FOUR fat ones, so my wife was happy. Alcohol was neither over or under poured.
All the food was excellent. Exec chef knows what he's doing, answered questions. The chef special requires you to fly a little blind, but he makes sure there's nothing that is a major no no or allergy. Southern flare. Pancetta with greens. Succotash. Alaskan Halibut in a potato leek soup. So. Freaking. Delicious.
Server was great. Very on top of things, but not over doing it either.
A Yelp reviewer wrote:

If you are looking for Good food, priceless views, Excellent service and clean atmosphere then look no further Beach House Bar and Grill checks all the boxes.