PIZZA SOCIAL BEGINNINGS & HISTORY
They are a small pizza shop dedicated to bringing the best pizza to Anna Maria Island and the surrounding area. Handcrafted pizza and fresh salads are among their specialties.
The Pizza Social is a new pizza restaurant on the Island that replaces J Burns Pizza. The dough and tomato pizza base are made from scratch here and cooked in an imported Italian oven. There are numerous specialty handcrafted pizzas on the menu, such as their Community Garden Pizza, Beach Please Pizza, AMI Pizza, and so on. They also offer traditional pizzas such as Hawaiian, BBQ, and a Build Your Own option.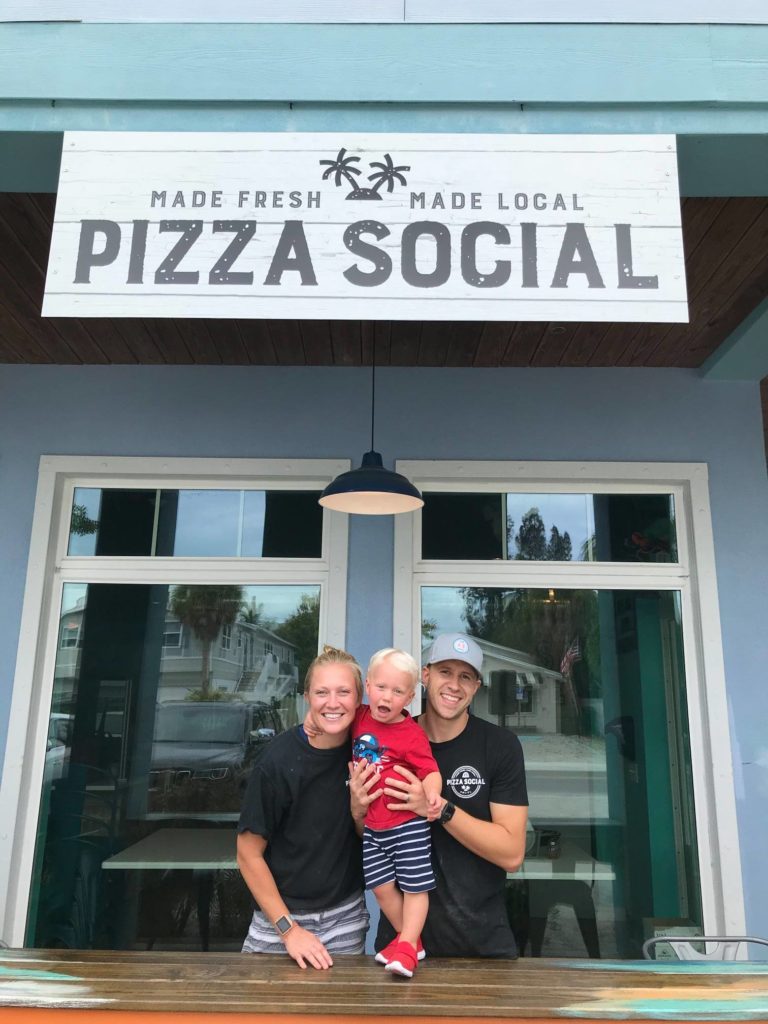 Salads on the menu include Greek, Caesar, and specialty salads such as the California Salad. If none of the salads on the menu appeal to you, you can choose the Build Your Own option and create your own salad. Yummy, yummy, yummy!
You can also make your own with a base of red sauce, barbecue sauce, buffalo sauce, ranch dressing, or EVOO. Choose between a 10-inch or 14-inch crust and pile on the toppings. For those with Celiac disease or gluten sensitivity, there is also a gluten-free cauliflower crust.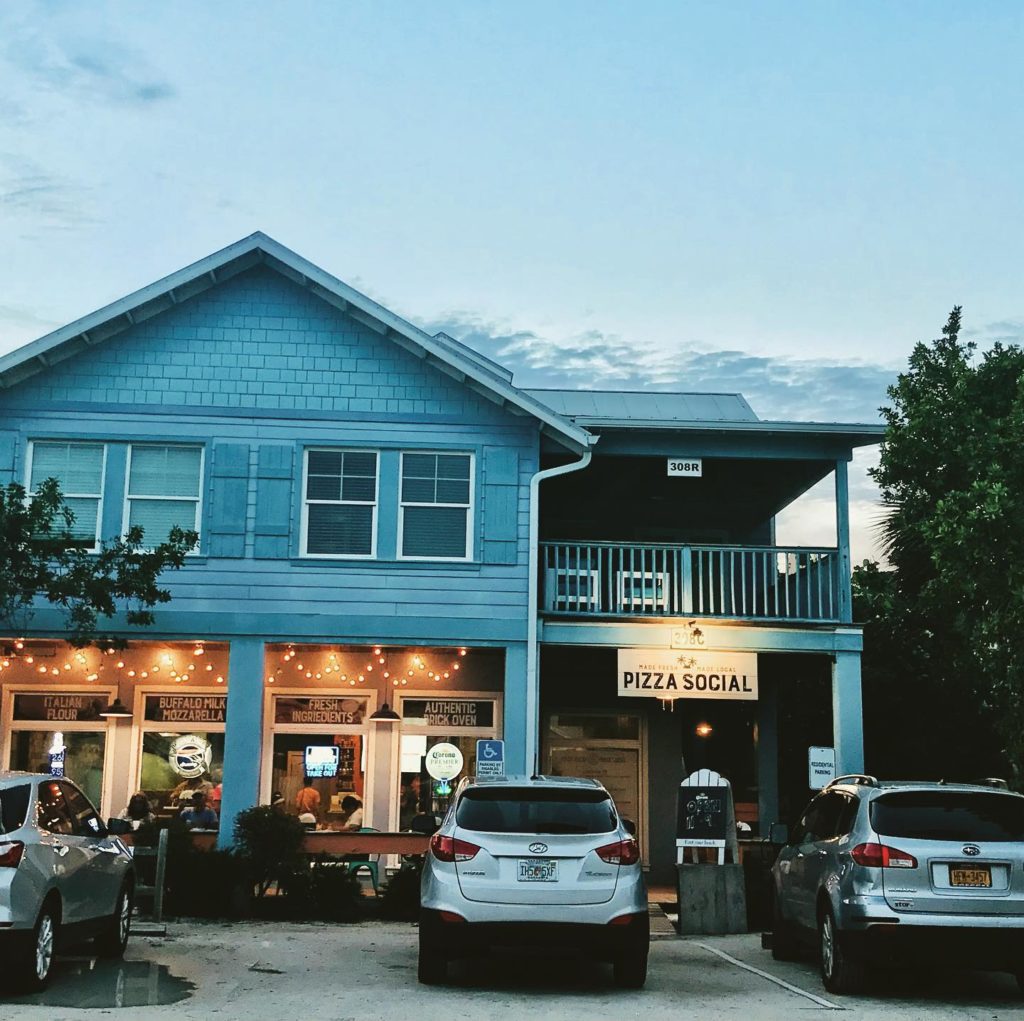 If you want to supplement your pizza with something healthy, go for a fresh salad. The Chop Chop is a tasty romaine/spinach blend tossed in house vinaigrette. Along with the Caesar, California, Greek, and Summer House salads, you can customize your salad with a spring mix, spinach blend, or romaine base.
Drink a Coca-Cola product (including Jarritos Mandarin Soda), beer, or wine to wash it down. Babe Red, Grigio, and Rose are among the wines available. If you prefer beer, there are pale ales, IPAs, Bud Light, and White Claw options.
BEST PIZZA IN AMI: PIZZA SOCIAL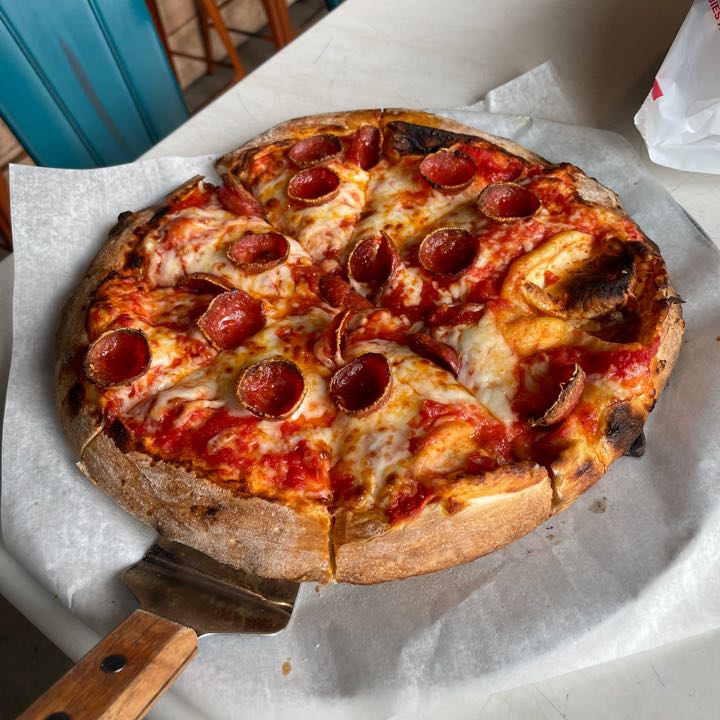 Take a treat to Pizza Social and eat it there or take it back to your Tstays beachfront rental. Pizza Social is open from 11 a.m. to 9 p.m., except on Tuesdays when it is closed. You can find them near the intersection of Pine Avenue and North Shore Drive.
Hand-crafted pizzas, fresh salads, and drinks to wash it all down are available at Pizza Social. The Social is a local favorite, with a 10- or 14-inch crust topped with red cause, Italian sausage, mushrooms, red onions, pepperoni, bell peppers, and mozzarella. Another tasty menu option is the Beach Please, which features fire-roasted chicken, bacon, ranch, and mozzarella.
CUSTOMER REVIEWS
Below are a few sample reviews from Yelp and Tripadvisor.
A TripAdvisor reviewer wrote:

The pizza was delicious! Fresh ingredients. Definitely authentic. The service was WONDERFUL. GF options available which are hard to find on the island. The lady there was so friendly and kind. Be sure to try the garlic dough nuggets. Salads were fresh and delicious! Something for everyone 🙂
A google reviewer wrote:

Casual and quick pizza spot on the Island. A few parking spots are available out front, but it seemed like most were taken while we were there. There's availability to sit indoors or outside on the patio area.

Menu consisted of some great pizza and salad options. Order at the counter and they will bring it out to you fir dine in. We chose to go with the "Beach Please" which consisted of ranch, fire roasted chicken, bacon, and mozzarella, topped with lettuce and tomato. Our pizza was delicious and absolutely loaded with toppings. With three people we still ended up taking a few slices home.

In addition to food, they have some beer and wine options. They have some rotating craft beer options in cans. Ended up going with the Sunny Key Lime. A little more on the sour side, but good if you like a lot of lime flavoring in beer.

Overall, the restaurant is great for a quick bite to eat or carry out.