ABOUT McCABE'S IRISH PUB & ALEHOUSE
According to an old Irish saying, "keep your store and your shop will maintain you." Thomas Stynes, who was born in Ireland, surely knows how to run a successful business.
Stynes, the owner of McCabe's Irish Pub and Alehouse at 302 Old Main St., isn't ready to lay back and relax just because he's accomplished his dream of building a downtown pub. He's regularly seen there, pouring pints of Guinness, cleaning tables, or speaking with customers. When he's not behind the bar, he's looking for treasures from his native Ireland to add to the rustic charm of the establishment.
McCabe's Irish Pub debuted last spring to considerable acclaim, while its neighbors in the adjoining senior living condominiums were concerned about a bar so close to home. McCabe's Irish Pub and Alehouse, on the other hand, has always made an effort to be a nice neighbor, never allowing late-night rock bands or outside dining.
When compared to Rashers or other pubs on Old Main Street, there isn't much area to work with, yet McCabe's makes the most of every corner and cranny. In the rear, a large, cushioned couch is pressed against an actual 1920s brick wall. Double-sided glass walls loaded with odds and end split the sofa into semi-private portions.
Irish street signs and Irish phrases adorn the brick wall, tastefully organized and not overdone. Plans include enhancing the rustic vibe of the bar by installing cupboards with old-fashioned brass knobs behind the bar and creating a "snug area." A snug area dates back to late-nineteenth-century Ireland, when Irish public houses, or pubs, contained tiny, cordoned-off portions for guests wanting seclusion or for women in an age when they didn't often enter pubs without a male partner.
BEST KARAOKE ON AMI: McCABE'S IRISH PUB & ALEHOUSE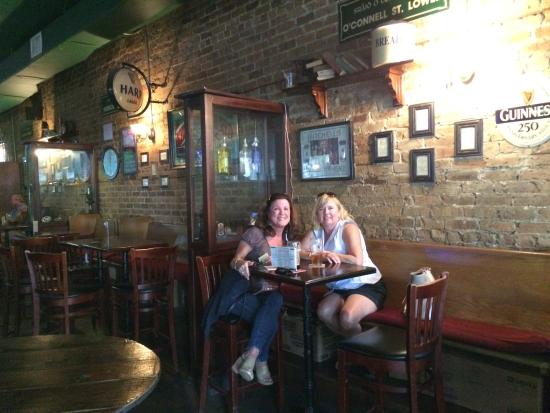 Looking to meet new people, sing karaoke, or simply enjoy a cool pint? Then proceed to McCabe's Irish Pub & Alehouse on Main Street in Bradenton. I've also heard that Lou, one of the bartenders, makes an excellent Bloody Mary. They have beer promotions and a lively environment. They have both pool and darts, so challenge your buddies to a game!
When one of my friends asked me out for a quick drink at one of the "Get Down Downtown" gatherings, I happened onto this hidden treasure.
Every pub on Main Street was full, but this one was hidden away, so we could enjoy each other's company and hear while conversing. I'm a sucker for small, intimate bars.
On Tuesday nights beginning at 8 p.m., McCabe's is the place to be heard for karaoke. You may be a star for the night this way! Remember to bring "liquid courage" so you can sing and dance to all your favorite songs. They also have a pool table and darts for you to compete with your friends. This manner, you may not only show off your singing ability, but also your indoor athletic prowess!
They also offer TVs that display all sports, so you won't miss your favorite football (soccer) or football (NFL) games while singing or dancing a jig.
CUSTOMER REVIEWS
Below are a few sample reviews from Google and Tripadvisor.
A TripAdvisor reviewer wrote:

We heard live music from the street and followed it into McCabe's Irish Pub. This pub has the feel of a Key West Bar from the 2 man band to the brick walls to watching the passers by from our table.
A google reviewer wrote:

Great place to hang out with my girlfriends. Everyone was nice and spoke with us. love the atmosphere