ABOUT BRADENTON BEACH
Bradenton Beach is the city on the southern end of Anna Maria Island, and there are several beaches to see while you're here!
Bradenton Beach is blessed with miles of sugar sand beach. Bradenton Beach is Anna Maria Island's southernmost city. You'll find the wonderful ambiance of old historic Florida in every place, as well as a rich culture all around you. Bradenton Beach has just 1,500 permanent inhabitants, so there will be plenty of space for you on the beaches. This city should not be confused with the adjacent Bradenton, which is located on Florida's mainland.
Bradenton Beach's ambiance is casual and hospitable, making it an ideal destination to simply get away from it all. You may wander along the famed beaches, stopping at a tiny shop for souvenirs, dining at a relaxed restaurant, and finishing the evening with some delectable ice cream. This small pocket of paradise also has a lot of history and wildlife to offer.
Activities & Things to Do
One of Bradenton Beach's most popular attractions is, well, the beach! While in town, you must visit Coquina Beach, the island's largest expanse of sand. This beach features a lot of sand dunes and waving grasses that make for a beautiful backdrop, and you could even see a sea turtle laying her eggs! Coquina Beach is the greatest place on the island for shelling, and it has many family-friendly features like as free parking, picnic tables, showers, a playground, and a paved boardwalk. You may also be confident that your family will be safe because of the lifeguards.
Take advantage of all the exciting things around while you're at the beach. Book a parasailing excursion for a unique bird's-eye perspective of the island, or hire a jet ski to completely immerse yourself in the ocean. You may hire a boat or kayak to ride the waves at your own leisure or go on an eco-tour with an experienced guide to assist you to locate the most beautiful species.
From beach-themed knickknacks to expensive jewelry, there's something for everyone! Stop by one of the cafés for a quick snack or a good cup of coffee, or go to the spa for some additional relaxation.
Dining Options at Bradenton Beach
There are tons of delicious restaurants in the area, whether you're looking for something cheap and casual or upscale and intriguing. While shopping on Bridge Street, be sure to grab dinner at Bridge Street Bistro for a spectacular view. You'll find fresh takes on classic dishes such as Caribbean bruschetta and shrimp tacos.
Beach House Waterfront Restaurant puts an emphasis on sustainability, using eco-friendly practices such as sea turtle-friendly lighting and native landscaping. Their sustainable practices lead to a delicious menu, featuring premium seafood like oysters, peel-and-eat shrimp, or middle-neck clams. You'll also find non-seafood options such as the grilled veggie sandwich, veggie burger, or short rib tacos.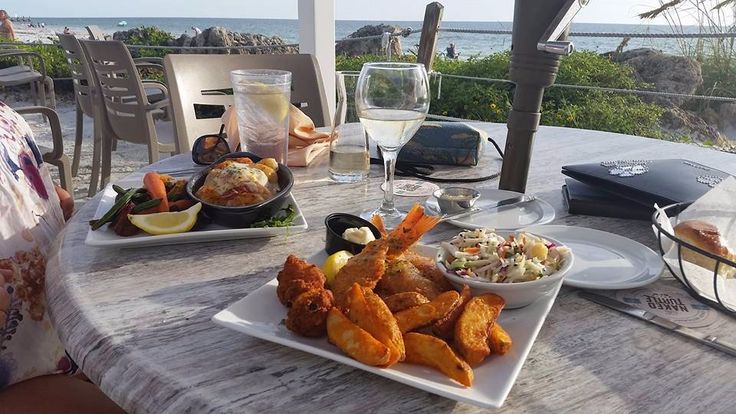 Island Time Bar and Grill is known for its Caribbean dishes and live music. The whole family is sure to love the fresh ingredients and welcoming atmosphere, and adults will love the specialty cocktails or draft beers! For a more relaxed eating experience, stop by the family-friendly environment that's the perfect backdrop for a delicious meal.
Also, Joe's Eats & Sweets is known for its homemade ice cream and fudge. Ice cream flavors range from the classics like vanilla and chocolate chip to insane varieties like key lime cheesecake. They also offer sugar-free ice cream so that everyone can enjoy it!
CUSTOMER REVIEWS
Below are a few sample reviews from Google and Tripadvisor.
A Tripadvisor Reviewer wrote:

We ordered two large pizzas. They were very good. Staff was kind and helpful. They have other Italian staples and take and bake options too. Great place.
A Google Reviewer Wrote:

We LOVE Vinny's !! We visit AMI about 6 times a year and every visit we make sure to get some Vinny's to take home with us. Lasagna is AMAZING.. so is the cake.. you truly cannot go wrong! Call ahead ! Wait times are long but it is so incredibly worth it.