Partaking in boat excursions and tours is a must when one finds themselves on Anna Maria Island.
So it only made sense for us to create this list of AMI's top boat tours and excursions.
Let's begin!
Shore Thing Tiki Cruises
Located in the heart of Bradenton Beach on Anna Maria Island, you'll find Shore Thing Tiki Cruises, a locally owned and run boat tour operator.
A perfect destination for anyone looking to go on boat excursions and cruises, whether it be along with your group of friends, or with your family.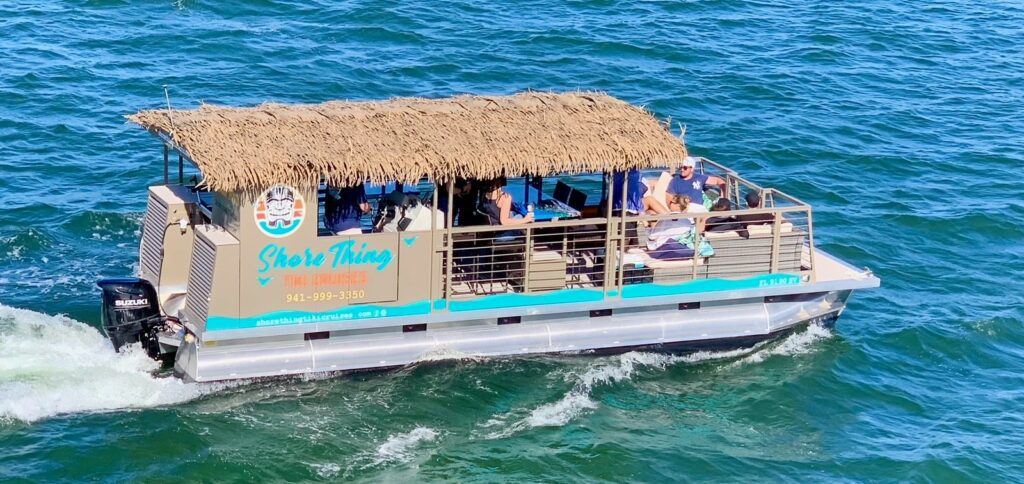 They offer a variety of tours and cruises, so you'll have the option to book any two and a half hour tour, from the Sandbar Stops and the Tiki Bar Hop to Sunsets cruises, dolphin watching and sightseeing.
You can also pack a small picnic aboard with all kinds of food and drinks, and liven the tour up with the music of your choice, for the ultimate fun boat experience.
Their boats can accommodate up to 23 people, making it perfect for large families.
And best of all, their boat tours and excursions are suitable for family members of all ages, from the youngest to the oldest.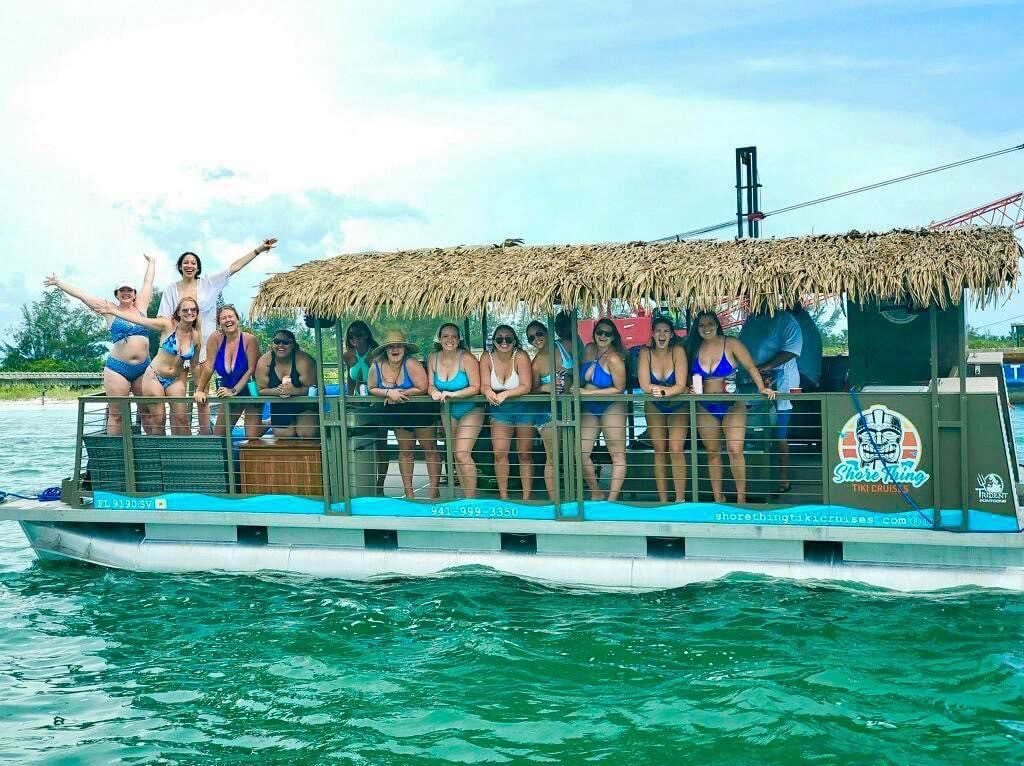 But if you wish to book and customize a private tour, you can do so to your and your group's liking, with the excursion packages they offer.
So whether you're going on a girls trip, or just looking to reunite with your friends and have some fun, Shore Thing Tiki Cruises is a perfect place for you.
Crysten's AMI
Another boating hotspot you must stop by on Anna Maria Island is Crysten's AMI.
Known for its private captained boat tours, Crysten's is, without a doubt, one of the best boat cruise and excursions on the island.
Offering 4 different types of tours, you'll definitely find something that suits you and your group here.
If your group's up to 6 people, and you're looking to spend around 2 hours exploring the crystal clear waters around Anna Maria Island, we'd recommend booking either the Sunset and Harbor Cruise or the Canal Tour.
As its name entails, the Sunset Cruise is the perfect opportunity to indulge in a relaxing water excursion, while taking in the mezmerzing kaleidoscope of colors that is the Anna Maria Island sunset.
While the Canal Tour will take you from Holmes Beach, passing by Bradenton Beach, all the way to Longboat Key, encompassing AMI's most beautiful beaches.
But if you're looking to spend even more time on the waters, we highly recommend booking their 4-hour Sandbar and Island Hopping Tour.
Crysten's AMI even has some of the friendliest staff and captains, which will make your cruise even more enjoyable!
Captain Fin's Sightseeing & Boat Tours
Another Bradenton Beach must visit when looking to book your next boat excursion is Captain Fin's.
Offering many types of tours and cruises, this is the ideal spot for anyone looking for adventure and discovery.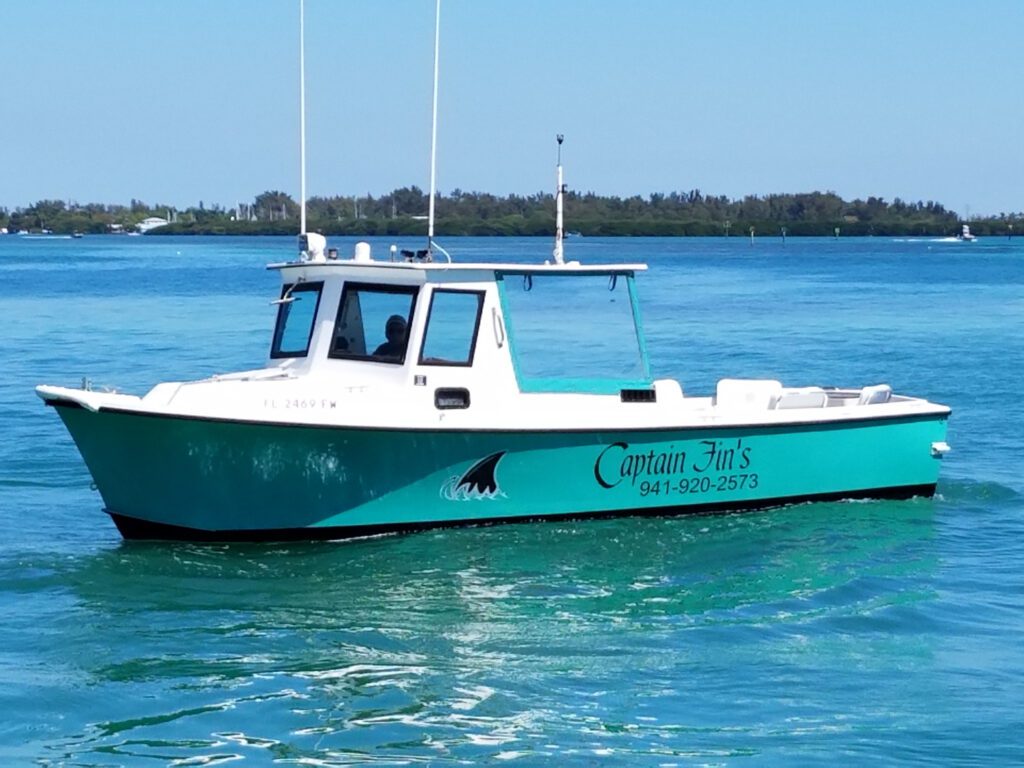 With Captain Fin's, you can have your pick of AMI charters, sunset cruises and dolphin tours and excursions.
They have tour charters for both Egmont Key and Passage Key, as both locations are known for being unique and historical landmarks, only accessible by private boat.
They also offer sunset cruises, sandbar trips, dolphin excursions, shelling and bird watching tours, all the way from Anna Maria Island, through Longboat Key, all the way to Sarasota Bay.
Their boats can fit up to 6 people, making it the perfect private tour for your family or group of friends.
AMI Escapes Boat Tours
No boat tours and excursions guide is complete without mention of AMI Escapes.
A beloved and popular spot for both Anna Maria Island locals and visitors alike, AMI Escapes stands out due to its captains and their super friendly and customer oriented conduct.
Their staff are extremely welcoming and amiable, which helps make your tours with them all the more incredible.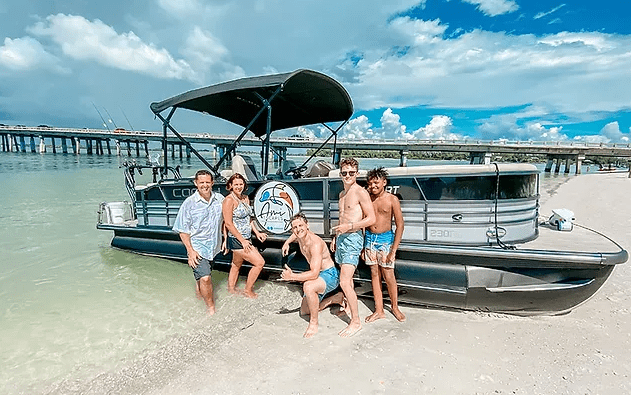 They offer so many boat tour options, but no matter which one you end up choosing, your tour will always include all the fun day amenities, such as snorkeling equipment, underwater scooters, paddle boards, nets, buckets, fishing poles, floats, sand toys, and so much more.
They excursions will absolutely include dolphin watching, snorkeling and family fishing, anywhere from Egmont Key, through Passage Key, all the way to Beer Can Island.
Booking your tours and excursions with AMI Escapes will definitely be the absolute perfect activity for all families visiting Anna Maria Island.
Ultra-Yacht Marine Lifestyle Store
Last but most certainly not least on our list is Ultra-Yacht Marine Lifestyle Store on Longboat Key.
Their charters are equipped with everything you might need, to guaranty you the perfect boat experience.
They're especially renowned for their SeaFari Eco Tour, where you'll get the chance to explore AMI and Longboat Key's waters, watching dolphins frolic along the way.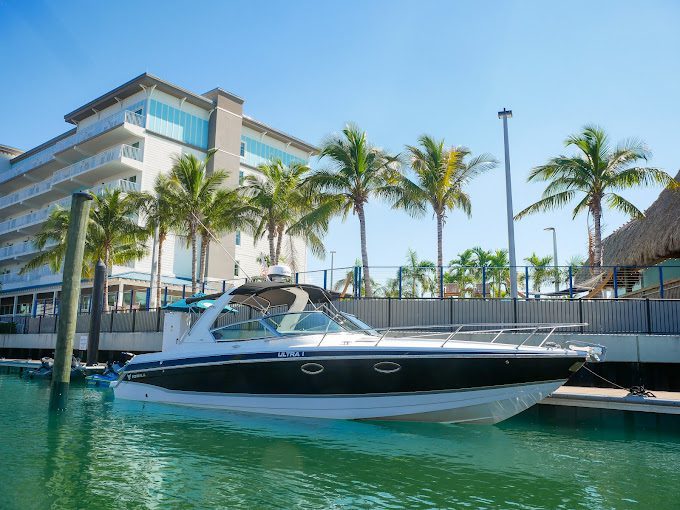 Their SeaFari Eco Tour boat can occupy up to 6 passengers, with an excursion lasting up to 2 and a half hours.
And furthermore, you'll have three vessel classes of charters to choose from, depending on what best suites your group.
If you're looking to spend half a day out on the waters, you can either book their Gold, Platinum or Diamond Class Private Charters, with varying features and amenities, and prices ranging from $699 to $1899.
Complete with complementary beverages, stereo, safety equipment, and some even having private cabins with full ensuite baths, you'll experience the epitome of luxury with Ultra Yacht.