If it's your first time visiting the majestic Anna Maria Island along with your family, and you're not quite sure which beach to go to and what beach activities to do, have no worries! We've compiled this guide into AMI's beaches especially for you.
Nestled up right on Florida's Gulf Coast, you'll find the mesmerizing Anna Maria Island.
This particular vacation hotspot is well known for its renowned beaches, with their fine white sands and stunningly clear waters.
And here's a closer look into said beaches and their beach activities!
Manatee Public Beach
As one of Anna Maria Island's most popular beach destination, Manatee Public Beach should definitely be on your beach bucket list.
When here, you can partake in a plethora of beach activities, ranging from kayaking and paddle boarding to fishing and taking boat excursions.
And it's definitely a hotspot if you're tagging along with your family.
Your kids will absolutely have the best time while swimming, snorkeling and building the most extravagant sandcastles.
And if you're worried about forgetting to pack any beach toys to keep your kids entertained, don't fret.
You'll find quite the variety of rentals shops littered all along Manatee Public Beach, from children's play equipment to beach chairs, umbrellas, and so much more.
And if you don't really feel like staying in the sand all day, there's a plethora of water activities for you to choose from.
Starting with the many water sports you simply have to try, for which you can easily find many rental shops along the beach.
So what are you waiting for!
Whether you're a fan of kayaking, shelling, paddle boarding or jet skiing, you'll definitely find what you're looking for here.
And if you prefer fishing and boating to water sports, you'll find quite a few options to suit your tastes.
From renting pontoons and boat charters to finding shops that rent out fishing equipment and offer all kinds of bait, Manatee Public Beach has all kinds of activities that are perfect to all your family members.
And don't forget to watch out for Anna Maria Island's marine wildlife!
From turtles to dolphins, you'll have the option to book many tours to observe all kinds of beautiful animals when visiting this beach.
After such a long a day at this beautiful beach, partaking in its various activities, you're bound to feel a bit peckish.
You've possibly already packed your own snacks when planning your beach day. But if you haven't, there's absolutely no need to worry.
Manatee Public Beach does offer quite a few snack bars, along with multiple restaurants and cafés that are open in its vicinity.
So what are you waiting for? Visiting this beach is an absolute must when passing by Anna Maria Island.
Coquina Beach
Moving on to another one of Anna Maria Island's beach gems, you simply can't skip out on visiting Coquina Beach.
Aptly named after the coquina rock – a form of sedimentary rock composed of tiny shells and other minerals that have been cemented together through time – this beach offers the optimal beach experience.
Much like Anna Maria Island's other beaches, Coquina Beach is renowned for its fine white sands and crystal clear waters, making it a sought-after location for many of AMI's locals and visitors alike.
Whether you're looking to simply sprawl out on the warm sands and tan, or have some fun with the various beach activities, this beach is the perfect destination for you.
And you definitely don't need to worry about your kids getting bored when at Coquina Beach.
They'll have the time of their lives making sandcastles, swimming, snorkeling, kite flying and playing frisbee.
And let's not forget the absolute joy they'll experience when exploring the beach's shoreline, while beach combing for shells and many other fascinating artifacts.
After all, Coquina Beach is well known for its shells, due to their distinct and mesmerizing features.
Many beach visitors enjoy collecting them as keepsakes, and some even use them in gardening and ornamental projects.
Additionally, if you wanna join in on the fun with your kids, Coquina Beach has many hike trails adjacent to its shoreline, where you can search for various Anna Maria Island local fauna and flora.
And don't forget to take part in several educational and family friendly beach activities. For example, tide pooling comes to mind.
Furthermore, you simply must rent a kayak and try stand-up paddle boarding while at Coquina Beach.
You don't wanna miss out on this opportunity!
After such a long and eventful day, you don't wanna leave on an empty stomach.
Either enjoy your packed lunch on one of the many picnic tables that this beach offers, or pass by one of its several snack bars and restaurants.
And your kids will even have a playground to entertain them if they're not taking part in the other fun activities Coquina Beach has to offer.
We should also note that this beach remains relatively uncrowded, even during peak season.
This might be due to the beach being located on a tiny barrier island, and having a limited amount of area available, unlike other public beaches.
So if you're looking for the optimal beach to enjoy some well earned family bonding time, all whilst relishing in a variety of entertaining activities while not being overly crowded, Coquina Beach is definitely the destination for you!
It literarily has something for everyone.
Bayfront Park
Spanning more than 10 acres on Anna Maria Island, you'll find Bayfront Park, a beautiful and serene public park perfect for the entire family.
This park is located on the island's northern tip, offering breathtaking views of the Gulf of Mexico, the Sunshine Skyway Bridge, and the Egmont Key beach.
This park has been known to be a favorite attraction amongst locals and tourists alike.
Offering a vast playground, a skate park, a fishing pier, and several hiking and cycling trails, Bayfront Park stands out from the rest of Anna Maria Island's parks.
Now I know what you're thinking. What is a park doing on our guide into Anna Maria Island's beaches, right?
We should definitely note that Bayfront Park has its own beach.
And best of all, its waters aren't particularly deep. Some areas are quite shallow and perfect for your little ones to swim around.
Additionally, if you're thinking as to how to entertain your children when they're out of the waters, no worries.
The park has its own playground with slides, swings, monkey bars and so many more toys for your kids to goof around with.
And the entire family could always enjoy the standard beach games such as frisbee, beach volleyball, sandcastle construction, and we're not even scratching the surface yet.
Given that children are also known for their sense of exploration, they'll simply adore admiring the various local wildlife and plants from mangroves to palm trees.
And they'll even get to try their hands at birdwatching the many species of birds that pass by the area.
Now if you're thinking what the adults can do while the kids are enjoying the playground, or having their snacks by the picnic tables, don't worry – we haven't forgotten you.
Whether you'd like to pack your own fishing gear or rent some from the local rental shops, just stop by either the beach or the pier and cast your line.
And it could be a great chance to introduce the little ones to the fun of fishing!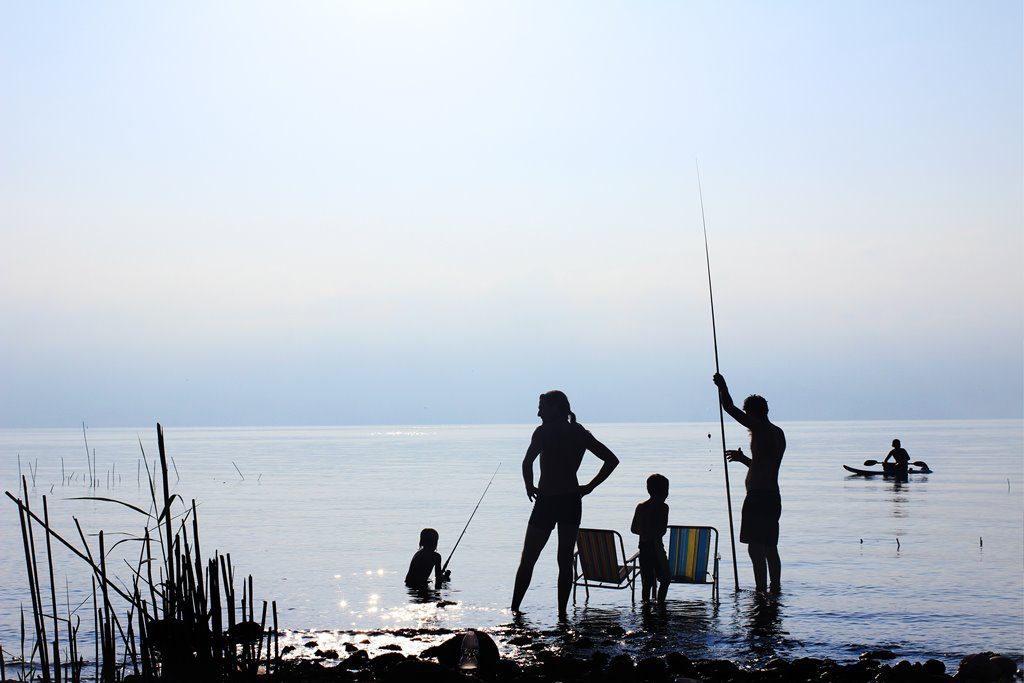 You'll also find a Veteran's Memorial in this park, paying tribute to all who served their countries.
Aside from its natural beauty, Bayfront Park has become quite the prime location due to its historical and cultural landmarks.
After all, this park wasn't always the way it is today, having quite the rich history.
So here's a quick recap!
In the 1800s, the area was mainly used for farming, from pineapples to tomatoes and many more fruits and vegetables indigenous to the region.
Then in the 1900s, several community homes rose up in the area.
It wasn't until the 1970s that this beautiful region was transformed into a public park.
Overall, Bayfront Park has something to offer everyone in your family!
Whether you're looking to unwind in the stunning natural settings, engage in fun leisure activities, or discover the rich history of Anna Maria Island, this park is definitely the spot for you.
Anna Maria Island Public Beach
Ideally located right in the middle of AMI, you'll find the perfect expanse of white sands and crystalline waters that is Anna Maria Island Public Beach.
A renowned vacation hotspot amongst visitors and locals alike, this beach is the perfect mix between entertainment and relaxation.
Possibly one of the first things that'll attract you when AMI public beach – especially if you're with your family – will definitely be the various water sports and activities.
Rent some snorkeling gear and take a dip into this beach's crystal blue waters, or enjoy the richness of its marine life with boat tours and excursions.
Don't feel like just snorkeling? No problem!
This beach offers an abundance of fun activities for the whole families like shelling, beachcombing, birdwatching and so much more.
Kids will even have a skate park and playground nearby.
And if you're looking simply for a peaceful activity, enjoy some beach yoga on the warm AMI sands.
And after such a long day at the beach, you're bound to be hungry after partaking in all its activities.
You'll have quite the options for lunch time. You can either gather around the BBQ area and enjoy your family meal on one of the beaches' picnic tables, or stop by one of the numerous snack bars and restaurants lining up the shoreline.
Best of all, despite its popularity, Anna Maria Island Public Beach seldom seems overcrowded.
So don't miss out on this particular beach when visiting the island!
Visit Anna Maria Island Beaches!
After this extensive guide, you'll definitely want to visit the splendor that is Anna Maria Island and its beaches.
So what are waiting for?!
Add this destination to your bucket list. Your entire family will have a blast!
And if you're worried about where to stay when visiting the island, have no worries.
An inside tip that we'll share with Tstays offers the absolute best accommodations, suitable for everyone visiting AMI.