Despite seeming small on a map, but Anna Maria Island is world renowned for having quite the variety of places to visit. And if you're worried about getting from one place to another, than we've got you covered, transportation wise.
Whether you wanna go through the plethora of mesmerizing beaches Anna Maria Island has to offer, or jump from one waterpark to the next, you'll definitely find your favorite way of transportation here.
So don't worry about not having your own car with you – you'll have many options to pick from.
Let's start, shall we?
The Anna Maria Island Trolley
Amongst Anna Maria Island's most popular transportation options, you'll find the trolley, a perfect way to enjoy the scenery of the island, without driving yourself and having to worry about where to park the car.
And did we mention that it's completely free!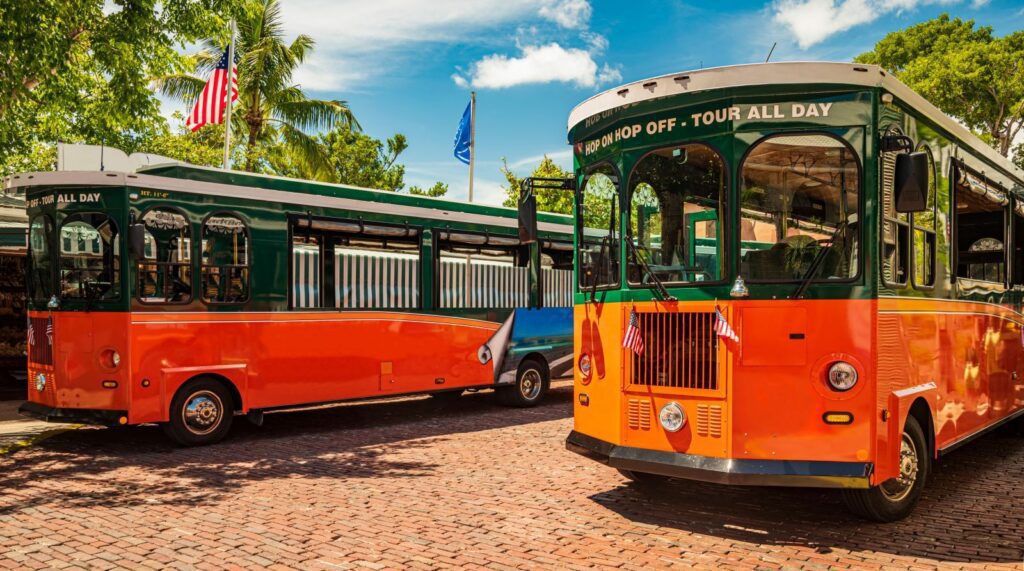 There's even a list displaying all the trolleys' programs and stops on the Anna Maria Island Chamber of Commerce, Site Map.
The Anna Maria Island Trolley runs from 6am till 10:30pm, starting at the Anna Maria Island Pier and ending at Coquina Beach, passing by each stop every 20 minutes until 9pm, and every 30 minutes until 10:30pm.
Amongst its many stops, the trolley will pass by Pine Avenue, the Island Shopping Center on Holmes Beach, Manatee Public Beach, and the renowned Bridge Street.
It even has a transportation route to Sarasota, from 6am to 11am, with pickup every 30 minutes, even running on the weekends and most holidays.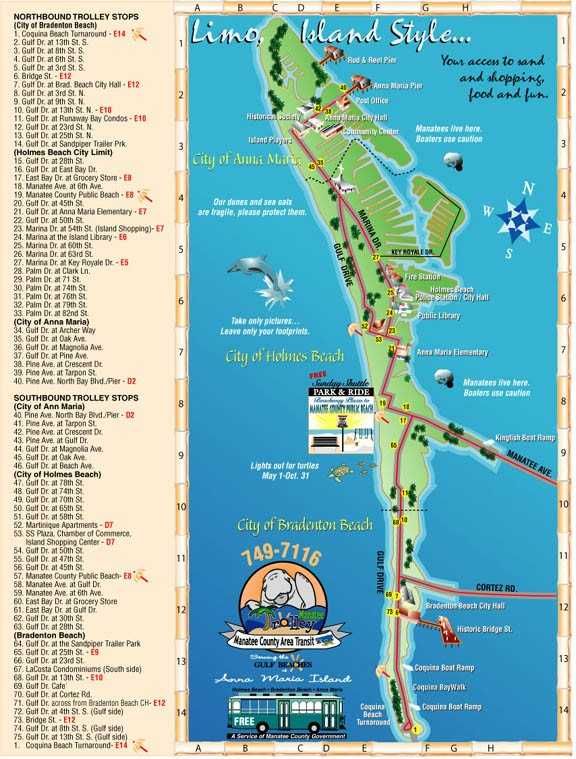 No need to even worry about waiting too long for a trolley to get to you. They're littered all over the island, and you're bound to find out every 3-4 blocks.
Oh, and did we forget to mention? You can now download the MyStop app to monitor the trolley's transportation route.
Simply log into the app, select Manatee County, and identify which trolley route you'd like to take.
And in case you have a bike that you're not sure what to do with, then have no worries.
The trolley has two seats at its front, where you can easily load and unload your bike, while exploring the rest of the island.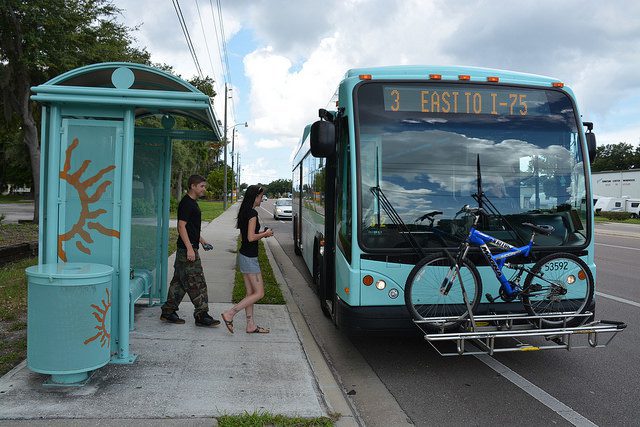 And in case you happen to forget any of your belongings on any of the Anna Maria Island trolleys, make sure to contact MCAT's lost and found department at (941) 749-7116.
Car Rental Shops
The most preferable and go-to transportation method for most, is obviously a car.
And for most visitors, driving their own car down to Anna Maria Island is next to impossible, not to mention absolutely exhausting.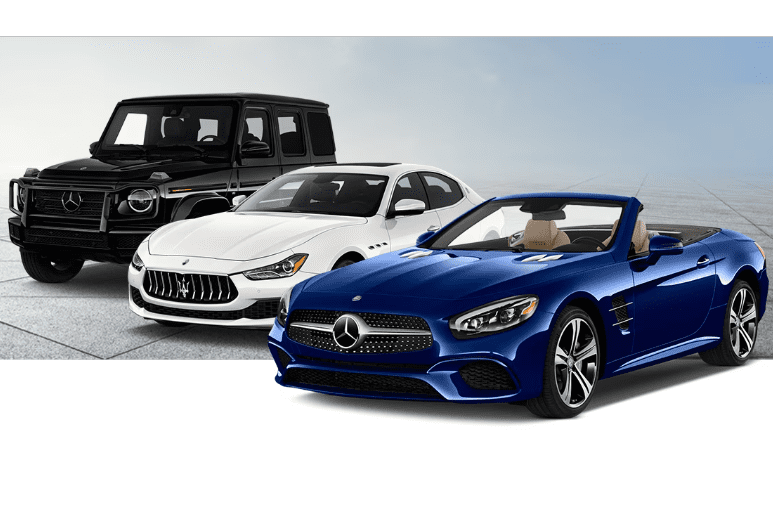 Thus why we've included some of our personal choices for car rental places around Anna Maria Island.
We usually prefer renting from Enterprise Rent-A-Car, down on Cortez Rd West Bradenton, or Practical Car Rental, on Osprey Avenue Sarasota.
Transportation via Golf Cart
Another popular transportation method on Anna Maria Island is the golf cart. And there's no shortage of those on the island, we can tell you that.
Everywhere you look, you're bound to find a golf rental shop that'll satisfy your needs.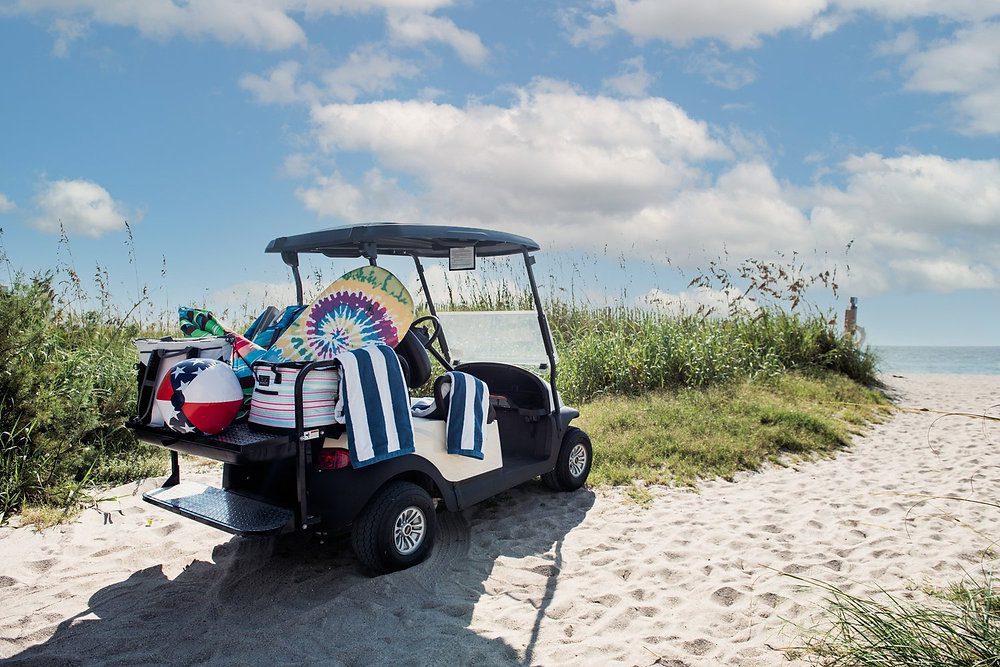 Now you might be asking yourself – why rent a golf cart when you can just rent a car? Simple.
Aside from saving a few bucks with a golf cart, it's much easier to maneuver down the streets of Anna Maria Island, and you can basically park it anywhere.
Amongst the many great rental shops you could choose from, we highly recommend Anna Maria Golf Carts and AMI Golf Cart Rentals.
The former is known for both curbside pickups and delivery, while the latter only delivers their golf carts to you.
Their prices are even quite reasonable – around $165 for a 4 seat cart, and around $199 for a 6 seat cart.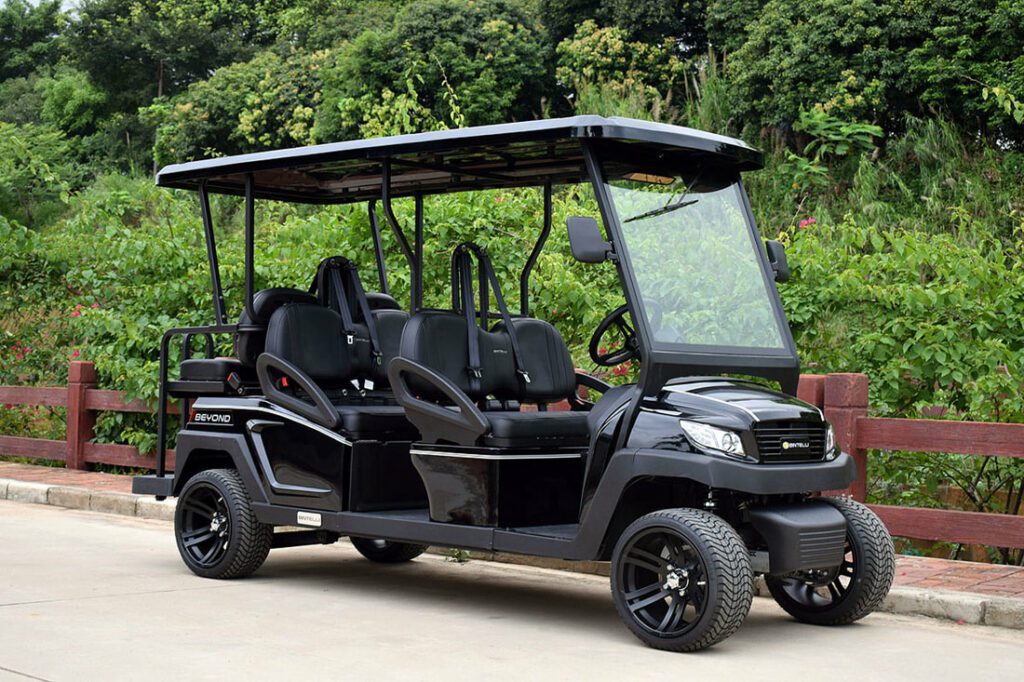 Their online booking process can be smoothly conducted without a hitch, and they even have many different offers and bundles on their websites.
It's also important to note that both rental shops pride themselves on always having their golf carts up to code, to ensure the safety of all their passengers during transportation.
They also enforce quite the reasonable set of rules for their consumers to follow, such as being over 21 years of age, having a valid driver's license, not driving under the influence, and so on.
Bikes and Scooters
A personal favorite transportation method of ours, especially on Anna Maria Island, is biking.
And a great place to rent bikes from is Robinhood Rentals, located right on Gulf Drive, Anna Maria Island.
Having bikes for all ages, you can plan the perfect family outing, going around and exploring the island and all its attractions.
They charge a rental fee of $18 for adults, and $10 for children. And with every bike rental you make, you get a helmet, a lock, a light and a basket for your bike.
Best of all, the City of Anna Maria has a clearly mapped out route for all bikes, including the island's beach access points, parks, public bathrooms, and so on.
So once you and your family have got your bikes, it'll be smooth sailing through the island.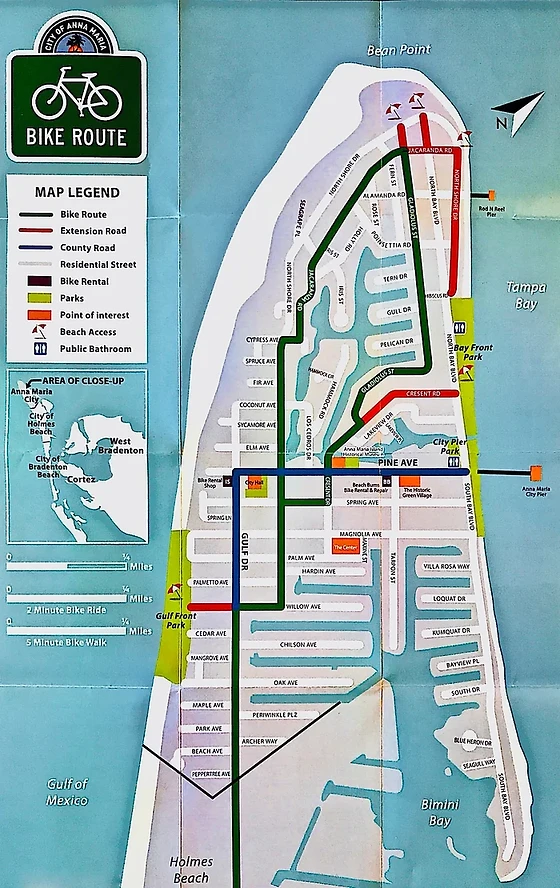 Robinhood Rentals don't just rent out bikes, but offer a myriad of transportation options like golf carts, scooters, scoot coupes, and so much more.
And if you're wondering what a scoot coupe actually is, it's basically a side-by-side scooter that's perfect for young couples looking to tour Anna Maria Island together.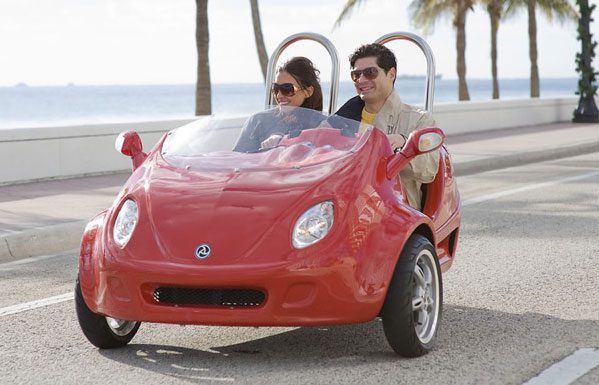 And the staff at Robinhood Rentals are super friendly and familial. They'll give you a breakdown of the area if you're a first time visitor, and even give you recommendations of all the must-see sites to pass by.
Now it's only natural that for scooters, Robinhood requires passengers to be of at least 18 years of age, and have a valid driver's license. And for scoot coupes, they should be no less than 21 years old.
As for the prices, they always update their bundles and offers on their website, and it's well known that all rentals' prices decrease when renting after sunset.
I don't know about you, but we can't think of a better way of exploring the island.
The Monkey Bus
Started as a small local business to help visitors get around the island two decades ago, the Monkey Bus has now become quite the famous attraction for anyone stopping by Anna Maria Island.
It's basically your very own Anna Maria Island taxi, but with a personal and local touch.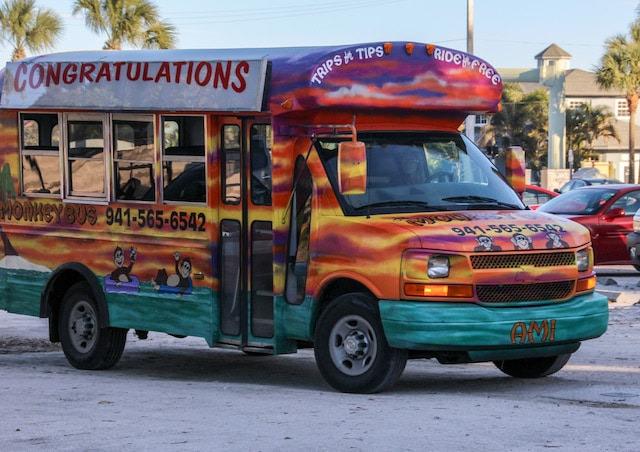 It should be noted that they charge $5/person as a transportation fee, but if you ask us, that's quite a small amount to pay to get you anywhere you wanna go on Anna Maria Island.
And children 10 and under are free to ride the Monkey Bus, no charge included.
But don't you dare think that's you'll just be getting a ride from the Monkey Bus. Oh no!
They also take music requests, answer any questions about the areas you'll be passing though and Anna Maria Island's history, and guide you to any store or landmark you'd like to visit.
And don't forget to tip your driver, cause it's gonna be one heck of a ride!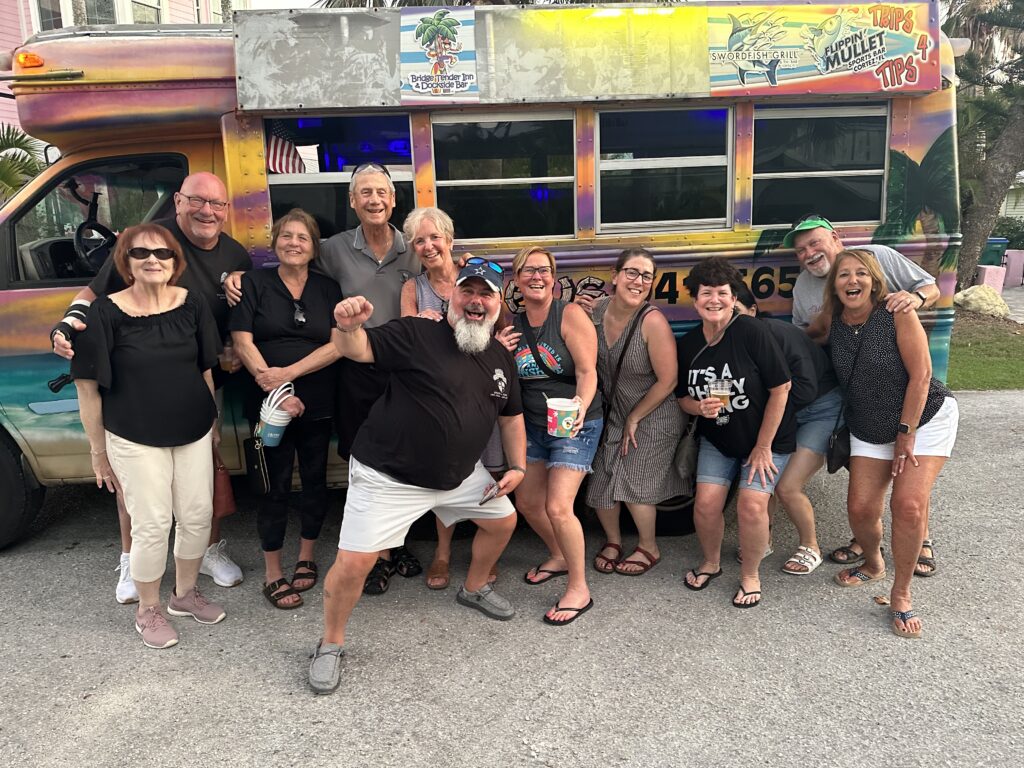 So what are you waiting for? Anytime you're near Anna Maria Island, dial (941) 565-6542 and book your ride with the Monkey Bus!
Take a Walk Around the Island
Now we know what you're thinking – how can walking count as transportation, in comparison with everything we've mentioned before?
It doesn't – walking isn't technically a form of transportation.
But given that Anna Maria Island is jammed packed with fun and entertaining activities and places to visit, and they're so close to each other, it's safe to say that you can discover many things while just taking a walk around the island.
A perfect example of that, is when you choose to stay at Waves, by Tstays. It's literally just a 4 minute walk to Anna Maria Island's beach, and many of the attractions that the City of Holmes Beach has to offer.
And best of all, it's fully equipped with all the beach equipment you could ever need.